SSL Cert denotes a secure website and promotes trust.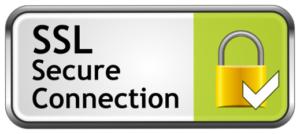 I have been recently contacted by Alan, owner of Alans Wedding Hire website on why his website was marked as "insecure" on the browser window. See image he sent below.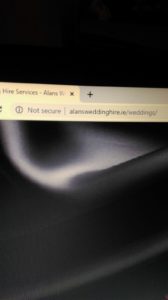 "Hi Liam why does it say my website is not secure, what does that mean? I just saw it and straight away thought people wouldn't go on it because of seeing that Liam can you make mine secure? I have looked at all my competitors and they are all secure.
From a view point of someone like me who knows nothing about websites, when I saw that "unsecured" writing on my website, as a lay person that didn't know any better, I would be frightened by it and not view the site. I'm just wondering if others that have clicked onto the site have done the same.
I need to be on a level playing field with the rest of the competition."
SSL Cert was added to Alan's website and is now showing as secure with a lock icon.
"Google To Give Secure Sites A Ranking Boost Google has announced that going HTTPS — adding a SSL 2048-bit key certificate on your site — will give you a minor ranking boost. Google says this gives websites a small ranking benefit, only counting as a "very lightweight signal" within the overall ranking algorithm."
Read article at: https://searchengineland.com/google-starts-giving-ranking-boost-secure-httpsssl-sites-199446
If your website does not begin with https:// then it does NOT have an SSL cert. Any computer in between you and the server can see your credit card numbers, usernames and passwords, and other sensitive information if it is not encrypted with an SSL certificate.
When an SSL certificate is used, the information becomes unreadable to everyone except for the server you are sending the information to.
Even if you accept website payments through PayPal, where you use Paypal's SSL website, then having an SSL certificate on your own website shows that your website can be trusted.
This can be the difference between making a sale or client or quickly losing your customer to another website that looks more secure.
SSL cert is not only necessary to sell online
More visitors to your site
Better visibility in Google
More clients for your business due to trust established
Its all about trust. having a website that begins with HTTPS: rather than HTTP: shows that this website is a secure website. This guarantees any information sent over this website, such as contact information, is secured and cannot be intercepted.
Contact us to make an enquiry or to purchase an SSL certificate
The primary reason why SSL is used is to keep sensitive information sent across the Internet encrypted so that only the intended recipient can access it. This is important because the information you send on the Internet is passed from computer to computer to get to the destination server.
SSL certs are a must for eCommerce websites who take payments over the website but non-eCommerce websites also benefit with a trust value. Just like Alan found out that people will continue to browse on your website once they know its secure
Irish Business Websites Hosting sell SSL certs. The cost to you is priceless as you will get the security and Google performance for your website for….
.27 cent per day for 1 Years SSL subscription
.20 cent per day for 2 Years subscription
Contact us today to get your trust certificate.